Market Snapshot: Dow shakes off 424-point skid as investors weigh virus spread against relief deal
Market Snapshot

Tesla stumbles in debut as S&P 500 component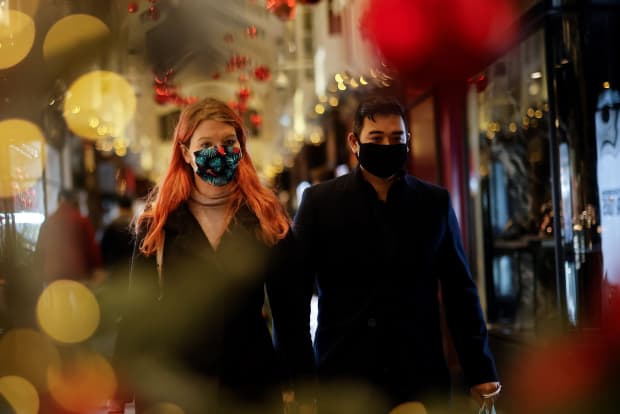 Email icon

Facebook icon

Twitter icon

Linkedin icon

Flipboard icon
U.S. stocks were mixed but well off session's worst levels as investors monitored a possible fast-spreading variant of the strain of coronavirus that causes COVID-19 and a deal struck by U.S. lawmakers over the weekend on pandemic relief.
Kicking off a shortened Christmas week, investors also are watching the first day of trade for Tesla Inc. as a component of the benchmark S&P 500. The stock, which officially entered the index on Friday, accounts for 1% of the broad benchmark at its market value of over $600 billion.
How are stock benchmarks performing?
The Dow Jones Industrial Average
DJIA
edged 82 points higher, or 0.3%, to 30,259, after touching an intraday low of 29,755.53.
The S&P 500
SPX
slid 10 points, or 0.3%, to 3,699.
The Nasdaq Composite
COMP
shed 18 points, or 0.1%, to 12,738.
On Friday, the stock market closed higher for the week:
The Dow posted a weekly gain of 0.4%.
The S&P 500 index rose 1.3%.
The Nasdaq closed out the week 3.1% higher.
What's driving the market?
Markets were momentarily spooked by reports from Britain and South Africa of a possible new strain of coronavirus, which led parts of London to implement tighter lockdown and social-distancing procedures. European Union countries reacted by instituting new restrictions on inbound flights from the U.K., stirring concerns about fruit and vegetable shortages.
Still, the pullback tone in equities comes as experts warn against overreacting and note that no evidence indicates that a variant is a more virulent strain of COVID-19, even if it is more contagious.
Treasury Secretary Steven Mnuchin on Monday offered some reassurance to reeling U.S. households and businesses that additional pandemic aid would be forthcoming after months of delay, including that the government would begin to send out $600 checks to millions of Americans next week.
"Unfortunately, the delay has taken a permanent toll on a lot of companies that won't reopen," Bryce Doty, portfolio manager at Sit Fixed Income Advisors, told MarketWatch, adding that recent lockdowns only add to the woes of restaurants and small businesses "hanging on by a thread."
Even against that backdrop, Doty sees risk-off days in equities or fixed-income assets as buying opportunities, given that he expects the U.S. to stage a strong economic recovery in 2021 once more of the population can be inoculated against COVID-19.
Check out: Here's when most Americans will be able to get a COVID-19 vaccine
Chris Larkin, managing director of trading and investing products at E-Trade Financial, struck a more cautious tone, noting that markets remain near record highs and valuations appearing stretched, leaving stocks vulnerable to shifts in investor sentiment.
The additional virus concern emerged ahead of an expected Monday vote on a fiscal spending bill that is paired with fresh aid for out-of-work Americans and businesses that have been devastated by the pandemic.
See: What could rattle markets in 2021, even as vaccines are rolling out
Over the weekend, Senate Majority Leader Mitch McConnell, R-Ky., outlined a deal on an almost $900 billion coronavirus relief package. On Monday, both Republican and Democratic leaders were busy touting policy victories for their sides, hoping to ensure they have enough votes on the last big thing Congress will do before heading home for the year.
Don't miss: 'It is unconscionable': Outrage over the 'three-martini lunch' tax deduction in the new coronavirus aid deal
"Make no mistake about it—this agreement is far from perfect. But it will deliver emergency relief to a nation in the throes of a genuine emergency," said Senate Democratic Leader Chuck Schumer.
Investors also were watching the first trading day for Tesla Inc.
TSLA
as a member of the S&P 500 index. It joins as one of the largest and, perhaps, most volatile members of the broad-market index.
In economic data, the Chicago Federal Reserve's gauge of national economic activity declined to 0.27 in November from 1.01 in October.
Which companies are in focus?
United Airlines
UAL
shares were 0.8% lower, after it issued a fee waiver for changes to travel plans to London.
Shares of airlines in the NYSE Arca Airline Index
XX:XAL
sagged 2.1% Monday as European countries imposed a travel ban on the U.K., even while airlines are expected to get another $15 billion in government aid.
Shares of Monmouth Real Estate Investment Corp.
MNR
 rose 3.1% after investment management firm Blackwells Capital LLC said it made an unsolicited bid to buy Monmouth.
CVS Health Corp.
CVS
 said Monday that it will begin COVID-19 vaccinations at long-term health facilities across the country.
Tesla Inc. shares were down over 4%.
HMS Holdings Corp.
HMSY
 gained 8% after HMS announced it would be acquired by Gainwell Technologies in a deal valuing the health-care-services company at about $3.4 billion.
Lockheed Martin
LMT
is buying rocket-engine manufacturer Aerojet Rocketdyne Holdings for $4.4 billion. Lockheed's shares were down 1.2%.
Financial shares were gaining on Monday after the Federal Reserve authorized banks to resume share buybacks next year. JP Morgan Chase
JPM
was up 4.8%, and Bank of America Corp.
BAC
was up 4.4%.
What are other markets doing?
—Mark DeCambre contributed to this article
U.S. stock-index futures attempted to edge higher but were seeing relatively tepid gains Sunday night, even as Congress reached a deal on a $900 billion coronavirus relief package. Futures for the Dow Jones Industrial Average {s: ym00] rose 57 points, or 0.2%, at 30,172, those for the S&P 500 undefined were flat at 3,705.75, while Nasdaq-100 futures rose 0.2% to reach 12,740.50. Senate Majority Leader Mitch McConnell said late Sunday described the agreement, one seen by many market participants as vital to helping troubled American workers and businesses, as "far from perfect," on the Senate floor. The deal, which still requires a vote on Congress, would come as the COVID-19 pandemic rages in much of the country. The relief package would see qualifying Americans receive direct payments of $600 and $300 a week in enhanced federal unemployment benefits. It would come after the stock market closed mixed on Friday, in the last full trading week of December, with the Dow undefined finishing 124.32 points, or 0.4%, lower at 30,179.05, the S&P 500 undefined ending down 13.07 points, or 0.4%, to close at 3,709.41, after hitting an intraday record high at 3,726.70. The Nasdaq Composite Index undefined lost 9.11 points, or 0.1%, on Friday to close at 12,755.64, after notching its intraday all-time high at 12,809.60. Congressional efforts toward a fresh aid package to combat the detrimental economic effects of the pandemic were coupled with a roughly $1.4 trillion annual fiscal spending package, with lawmakers racing to avert a government shutdown set to take effect at 12:01 a.m. Monday