Market Snapshot: Dow ekes out record close after Powell says reclaiming lost jobs the focus, inflation not a worry
Market Snapshot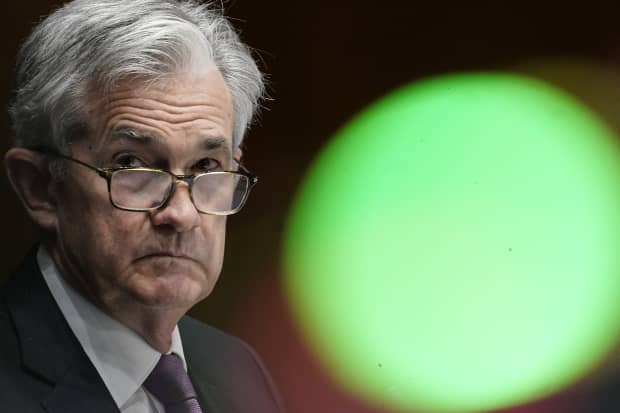 Email icon

Facebook icon

Twitter icon

Linkedin icon

Flipboard icon
U.S. stocks closed mixed, though the Dow eked out a new all-time high, after Federal Reserve Chairman Jerome Powell said he remained focused on getting Americans back to work and downplayed the risk of runaway inflation.
A report on U.S. inflation also showed investors have little to worry about, for now, giving a brief boost to stocks in early trade.
How did major benchmarks do?
The Dow Jones Industrial Average
DJIA,
+0.20%
closed up 61.97 points, or 0.2%, at a record 31,437.80, after flipping between small gains and losses.
The S&P 500
SPX,
-0.03%
shed 1.35 points, less than 0.1%, ending at 3,909.88.
The Nasdaq Composite fell 35.16 points, or 0.3%, finishing at 13,972.53 and snapping a four-day win streak.
Stocks on Tuesday saw little movement, with the Dow
DJIA,
+0.20%
and S&P 500
SPX,
-0.03%
posting small losses to snap a six-day winning streak for both indexes, while the Nasdaq Composite
COMP,
-0.25%
eked out a small gain to capture another record close. The small-cap Russell 2000
RUT,
-0.72%
outpaced its larger-cap siblings with a 0.4% gain to also post another record finish.
See: Is the stock market due for a correction in 2021? Here's what some experts think
What drove the market?
Fed Chairman Powell on Wednesday said he and his colleagues were focused on getting Americans back to work in the wake of the devastating pandemic, but also stressed that he was not yet concerned with the prospects of runaway inflation, during an afternoon talk on the state of the labor market.
"Inflation has been much lower and more stable over the past three decades than in earlier times," Powell told the Economic Club of New York.
Powell also said that while households have been socking away savings during the pandemic, which could temporarily lead to a boost in demand for products and services as the threat subsides, that he does not expect the bounce to be "large nor sustained."
"I agree with that," said Liz Ann Sonders, chief investment strategist at Charles Schwab, following Powell's remarks, adding that the goods side of the economy, for things like autos, home improvements and electronics, held up well in the past year, which could limit the argument for pent up demand in the months ahead that drives inflation way up.
"The services side, that's just a different animal," she said. "If you didn't get six haircuts during COVID, when salons reopen, you only get one. If you miss three vacations, you don't take three in a row."
Powell again stressed that the Fed would need to see substantial improvement in both employment and inflation before there was any tapering of its $120 billion per month asset purchases.
The U.S. consumer price index rose 0.3% in January as expected, after climbing 0.4% a month earlier, but excluding volatile food and energy prices the core CPI was unchanged versus an expected increase of 0.1%. CPI inflation was up 1.4% in the past 12 months.
While the headline economic indicators aren't showing evidence of inflation yet, commodities prices are, noted Andrew Smith, chief investment strategist at Dallas-based Delos Capital Advisors. Raw materials like oil
CL.1,
+0.12%,
lumber
WOOD,
+1.18%,
and corn
C00,
-4.27%
have all shot higher over the past few months, and may start to pinch Americans' pocketbooks soon, he said.
Even so, Smith told MarketWatch, "We think we've hit a good new stride in the market." While valuations are high in all corners of the market, "We're finally seeing earnings growth," he said.
Investors also remain focused on prospects for another large round of government spending, as well as a slowing pace of new COVID-19 infections, along with the ongoing vaccine rollout.
The U.S. federal budget deficit increased sharply in January to $163 billion from a $33 billion budget gap in the same month of 2020, the Treasury Department said Wednesday, as Washington funneled more financial aid to families and unemployed workers to cushion the latest blow from the coronavirus pandemic. The budget gap in the first four months of the current fiscal year was 89% higher compared to a year earlier — $736 billion versus $347 billion.
President Joe Biden is targeting an $1.9 trillion package and Congressional Democrats have taken steps that would allow them to push through a spending plan without Republican support in the evenly divided Senate via a process known as budget reconciliation. The size of the plan is expected to shrink somewhat, however, due to resistance from some Democrats.
The second impeachment trial of Donald Trump also got underway with arguments in the Senate on Wednesday afternoon. The trial isn't expected to affect financial markets since it isn't seen as interfering with a push toward another round of coronavirus aid spending.
See: 24 bank stocks with dividends of at least 3.57%, three times what 10-year Treasurys pay
Which companies were in focus?
How did other markets perform?
Read next: These 'sweet sixteen' recovery stocks still have upside, according to Raymond James
William Watts is MarketWatch's senior markets writer. Based in New York, Watts writes about stocks, bonds, currencies and commodities, including oil. He also writes about global macro issues and trading strategies. Before moving to New York, he reported for MarketWatch from Frankfurt, London and Washington, D.C.